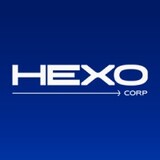 Payroll Analyst
HEXO Corp.
Kanata, Ottawa, ON, Canada
16 days ago
Since the legalization of recreational Cannabis in October 2018, HEXO Corp has experienced incredible growth. As one of Canada's top Cannabis companies, we continue to advance in this exciting new industry along with the incredibly talented people we have working on the team.
HEXO Corp creates globally trusted brands of easy-to-use and easy-to-understand cannabis products. HEXO Corp is a serious, business-oriented and socially responsible organization that is building dynamic teams of professionals that aren't afraid to step outside of their role, try new things and challenge the status quo.
If you are excited to take on a new challenge and are open to getting out of your comfort zone, we're looking for people like you to join the HEXO Corp family.
Join the HEXO team and make an impact with an innovative company that is leading the pack in an exciting, fast-paced industry. We are currently seeking a full time Payroll Analyst to join our team.
Job Responsibilities:
Responsible for the processing of payroll for multiple companies in a timely and accurate manner
Audit payroll/personnel records by entering changes in exemptions, garnishments and job classifications
Creating and processing of ROES
Maintains procedures to review and approve all hours submitted by Supervisors/Managers and address inquires regarding pay and time off policies
Review payroll audit reports prior to transmission
Review payroll registers for accuracy and transmits payroll files for each assigned pay group
Creates and reconciles general ledger for each payroll run and submits to Finance
Maintain attendance records including vacation and Personal Leaves
Maintains payroll records in accordance with ESA
Reconciles and balances year-end T4 & RL-1 processing to ensure accurate reporting of wages and taxes to employees and withholding tax authorities
Maintain system changes including GL Account mapping, pay codes and time and attendance codes
Maintains payroll deductions in relation to benefit program
Assist with employee payroll inquiries and resolve discrepancies
Assist in maintaining employee files
Ensure accuracy of approved timesheets
Maintain & deduct all garnishments and other special payroll deductions.
Responsible for the coordination efforts between payroll, finance, human resources, and other departments to ensure proper flow and maintenance of employee data
Ensure employee changes are entered correctly and occur in a timely manner.
Knowledge, Skills and Abilities:
Certified payroll practitioner (PCP) considered an asset
3-4 years of experience in payroll and
Experience with Ceridian Dayforce considered an asset
Knowledge of payroll related legislative requirements including ESA compliance
Ability to work independently and with minimal supervision
Experience working with timekeeping systems, Microsoft Office and Microsoft Outlook
Ability to work under pressure, to multi-task and to prioritize tasks on a daily basis
Ability to communicate effectively (written & oral)
Bilingualism (French & English) is required
Intermediate Excel Skills
Job Types: Full-time, Permanent
HEXO Corp. expressly prohibits any form of workplace harassment based on race, color, religion, sex, sexual orientation, marital status, pregnancy, parental status, national origin, ethnic background, age, disability, political opinion, social status, veteran status, or genetic information and encourages applications from all minority groups.